Launch Partner Highlight Series:
Engaged Marriage x Unbucket
This series highlights the amazing group of organizations and individuals contributing to our first set of branded Unbucket lists. We felt strongly that their investment and belief in what we're accomplishing together warranted special recognition.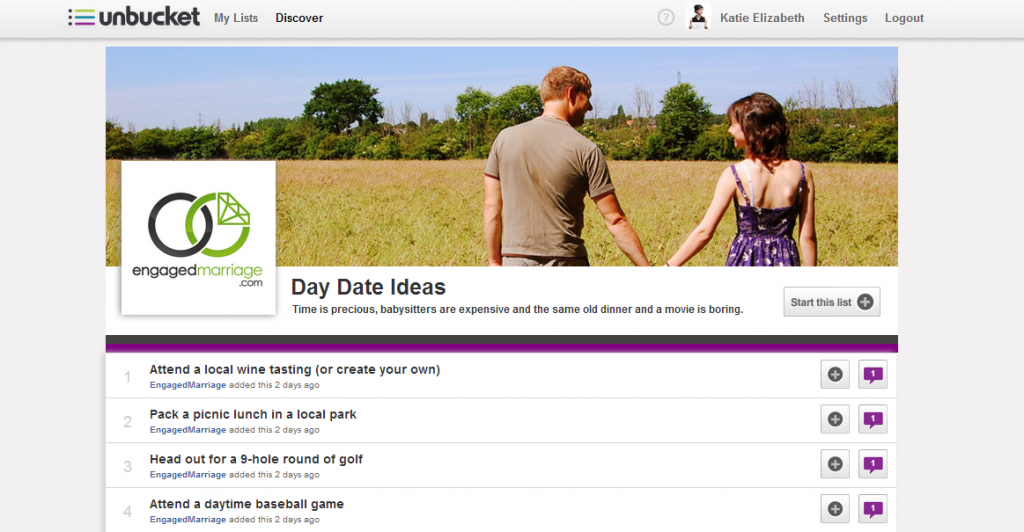 We like to believe that an Unbucket list is the antidote to a boring relationship, a string of promises to live an active life in the company of each other. Indeed, we've seen many different types of couples using Unbucket, from couples living in the same city plotting out future dates to couples living thousands of miles apart dreaming of future days spent together. It was in this spirit that we originally approached Dustin Riechmann of the website Engaged Marriage to share Unbucket with his community, which he graciously allowed us to do. When the time came to seek out partners for Unbucket's launch, we immediately turned to Dustin, this time to create something special to share with our own community as well.
Engaged Marriage is a brilliant play on the word "engaged" that inherently asks, "Shouldn't we remain engaged even after we're married?" To quote Dustin, "I understand it's a very real struggle to find time to devote to improving your married life. I know how it feels to struggle to even keep up with the everyday requirements that we face as couples in the earlier years of our marriage. I know it's hard. But I also know that it's totally worth it." It's this realistic yet hopeful approach that permeates everything Dustin shares with his Engaged Marriage community. This approach also captures the ethos Unbucket strives to embrace, which is why we're so excited to share our first collaborative Unbucket list with Engaged Marriage: Day Date Ideas.
Whether you are dating, engaged, married, or engaged and married, we hope you'll use Unbucket and Engaged Marriage as two resources to enhance and grow your relationship, and we're looking forward to sharing with you many more future collaborations.
3 Questions with Dustin Riechmann of Engaged Marriage
Dustin is the founder and main contributor to Engaged Marriage, inspired by his own experiences as a father and husband. In addition to being an expert on relationships, Dustin is a trained civil engineer.
1. Why were you excited to work with Unbucket?
At Engaged Marriage, we're all about experiences. A shared experience with your spouse or fiance doesn't have to take a lot of time or cost a lot of money to have a real impact on your relationship and bring you closer. That's what I love about Unbucket – it's an amazing place to come explore and live out experiences together.
2. Can you share a personal experience with an Engaged Marriage x Unbucket list item?
Our first Unbucket list is all about helping couples get out an enjoy a Date Day – which of course changes things up a bit from the traditional date night of dinner and a movie. My wife and I have done just about everything on the list at some point (mostly before our three small children were around). A favorite of ours is the day trip to the zoo…without kids in tow. We live near St. Louis, and we have a fantastic zoo that's right in the heart of the 1,300-acre Forest Park. It's hard to beat a spring afternoon spent exploring the zoo, followed by a pedal boat ride and a small lunch in the park.
3. In what way does Engaged Marriage bring people closer?
We provide content and tools that help busy couples live intentionally and enjoy their married life to the fullest. While we cover everything from money to productivity to intimacy, the common theme you'll find at Engaged Marriage is practical advice that will improve your life with just a small investment of your time. I'd definitely encourage the Unbucket community to come over and join our free newsletter to get some fun and helpful resources for their relationship. Don't just stay married…get engaged!