Launch! (With a Little Help From Our Friends)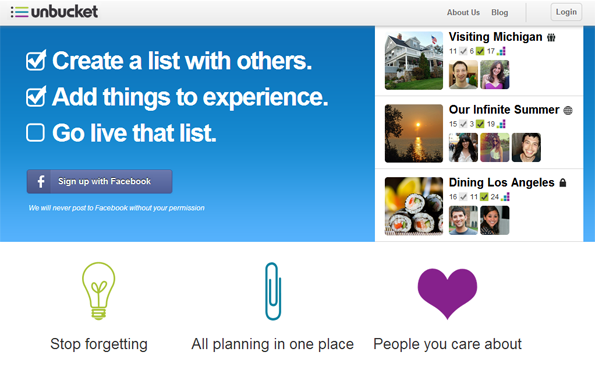 Today, we open Unbucket to the public after concluding a closed beta period launched at the beginning of June 2012. By far the most rewarding part this endeavor has been interacting with you, our ever-growing community of people that use Unbucket. You have shared hundreds of ideas for making Unbucket better, you have inspired us with thousands of list items and you have carried our cause across six continents and over 100 countries.
Together, we are shaping a web that doesn't just connect us digitally, but a web that brings us closer together in the real world too.
We're extremely excited to announce that today we are joined by eight partners that equally believe in this vision. They have lent us their expertise, original content and passion to create lists to inspire offline action among our community and their own.
We will not rest until everyone shares an Unbucket list with someone he or she cares about deeply, and every organization shares with Unbucket a list of things it cares about deeply too.
To those that have gotten us to this point-  thank you for everything.  For you, an Edith Wharton quote: "There are two ways of spreading light: to be the candle or the mirror that reflects it."
Finally, some of you may know that Unbucket stemmed from a Mother's Day gift (Read here). We'd like to take this opportunity to dedicate the launch of Unbucket to the memory of Brian's mother, Marilyn Berman, who touched the lives of so many in indescribable ways and will forever be missed by all.
Best,
Brian & Elliot