Launch Partner Highlight Series:
Local Culture x Unbucket
This series highlights the amazing group of organizations and individuals contributing to our first set of branded Unbucket lists. We felt their investment and belief in what we're accomplishing together warranted special recognition.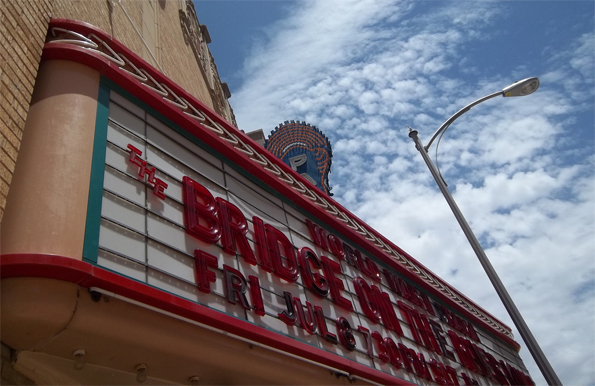 When creating Unbucket lists and adding items to experience, we often encourage our community to think "small, near, and soon." It's not that we don't believe people should keep Unbucket lists comprised of exotic places and ancient wonders to visit in a lifetime, it's just that often, if we're willing to look, incredibly rich and rewarding cultural experiences are waiting for us in our own backyards. Think about the local theater company or progressive art gallery or basement concert venue; regular exposure to the experiences these institutions offer can lead to a very fulfilling life, even if your passport remains in a drawer for much of it.
It's why we're so excited to announce that two of our launch partners are champions of promoting these types of local cultural experiences.
The first to approach Unbucket was Columbia, Missouri's Office of Cultural Affairs. According to Money Magazine, Columbia is the thirteenth most highly educated municipality in the United States. It's home to the University of Missouri and is often referred to as College Town USA. It has a thriving downtown, and hosts numerous cultural festivals each year. We've always believed every city should use Unbucket to promote local attractions to both residents and tourists, and we couldn't imagine a more perfect partner than Columbia, Missouri. It's with great pleasure we share with you their first two Unbucket lists: Engage the Stage: Attend Great Performances in 2013 & Deepen your arts experience.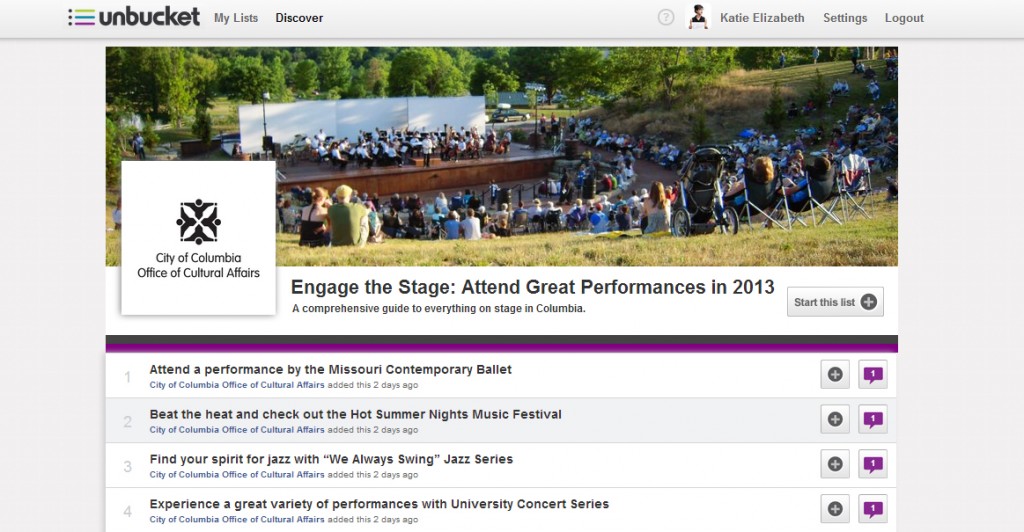 The second partner to approach Unbucket was CNY Arts, a Central New York organization that works to enhance the arts and cultural environment of the region. In particular, what we love about CNY Arts is their IDEAS Collaborative. Created two and a half years ago, the IDEAS Collaborative was established to help arts and cultural groups in the region pool resources and share marketing initiatives. The Collaborative's charge to promote a wide variety of cultural experiences in centralized and innovative ways made them a perfect fit for Unbucket. It's with great pleasure we share with you their first Unbucket list: Arts & Cultural Activities to Enjoy around CNY.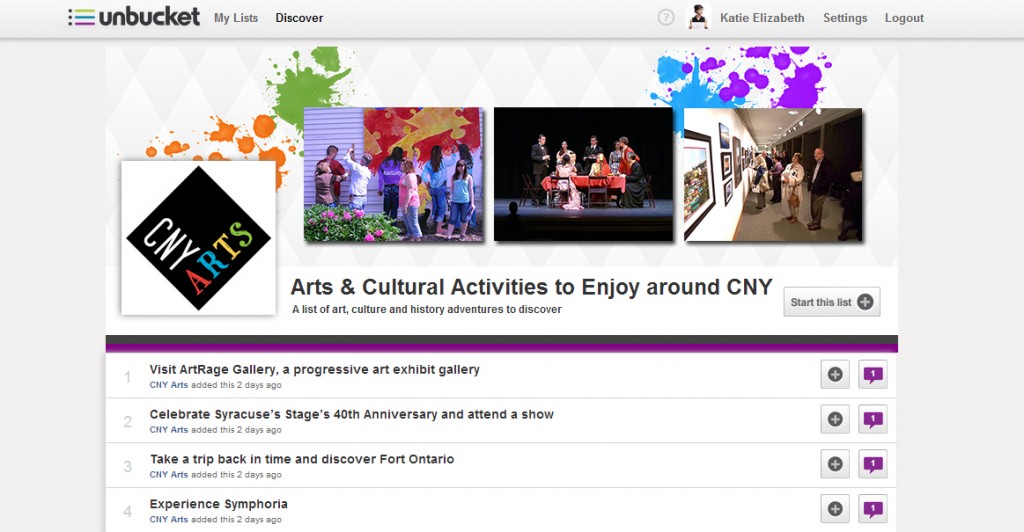 Wherever you live, whether it's Columbia, Missouri or Syracuse, New York, we hope these lists inspire you to seek out a rich life made of the best your local cultural institutions have to offer.
3 Questions with Sarah Dresser of Columbia, Missouri's Office of Cultural Affairs
Sarah is a Cultural Affairs Specialist for the city of Columbia, MO and key part of ensuring the success of the city's art-related activities.
1. Why were you excited to work with Unbucket?
When I first heard about Unbucket, it seemed like a great tool to get people motivated to go out and experience the arts in Columbia. Encouraging community-wide awareness, participation, and investment in the arts is a priority for the Office of Cultural Affairs. This past year, we have really tried to be more connected through social media and innovative marketing. Being able to work with Unbucket to create lists will add a new level of engagement to our current efforts. I'm excited to see people start using our lists, create their own, and get other cultural organizations in Columbia involved.
2. Share a personal experience with one of the items on your Unbucket lists.
Even after living in Columbia for many years, I continue to be surprised by the number of new experiences I can have. This might be attending a unique, one-time event or inviting a friend to see a performance in a concert venue that is unfamiliar to me. I remember the first time I attended a jazz performance presented by "We Always Swing" Jazz Series. It was several years ago, and I got the last two tickets to see pianist Brad Mehldau with his trio at a Sundays @ Murry's concert. Being able to see a top jazz performer an intimate setting and sharing the experience with those around me is something I will never forget. I must have truly found my "spirit for jazz" because I have been back to several "We Always Swing" concerts at Murry's and other venues, and each time I feel like I've learned something new.
3. How does your work with the Office of Cultural Affairs bring people closer together?
One of our goals is to encourage people to participate and invest in the arts. This could be going to a music concert, a theatre performance, or a gallery opening. It could be taking your children on a self-guided tour of all the publicly accessible art in Columbia. Maybe it is signing up for an art class. In all of these examples, people are sharing an experience. We hope that by becoming more involved in the arts in Columbia, people will foster deeper relationships within the community.
3 Questions With Matthew De Bellas of CNY Arts
Matthew is the IDEAS Project Manager at CNY Arts where he engages audiences to broaden overall arts and culture participation in Central New York area. Matthew is also an artist himself with a particular interest in video as a medium.
1. Why were you excited to work with Unbucket?
We have so many great arts, cultural and heritage assets covering a six-county region in CNY. I'm always looking for new ways to engage with our community that encourages further participation in the arts. It is also very important for us as it is with many organizations to find opportunities to reach out to new people to become involved with the arts. I really liked the idea of creating lists online that leads to offline engagement. So when I first heard about Unbucket, it seemed a great fit for what we are trying to achieve. Unbucket is a great way to engage and bring people together to enjoy the great opportunities we have in CNY.
2. Can you share a personal experience with a CNY Arts Unbucket list items?
I have done almost everything on the list I made over the past several years. But one of my most recent experiences was at ArtRage Gallery. There was a photography exhibit where people took images of his or her neighborhood. The night that my partner and I went, was also a night that the gallery was hosting a potluck dinner and giving out art awards. I was going to leave, as not to disturb their event, but they welcomed us in, told us to enjoy the exhibit and when we were done, they asked us to stay for dinner. I met a lot of great people that night and had a wonderful experience. That sense of community is something that is very common throughout the arts community in CNY.
3. In what way does the work you do bring people closer?
CNY Arts is driven by the idea of connecting arts, culture and community. My role, particularly with the IDEAS Collaborative is to foster greater collaboration among arts and cultural groups with the goal to increase participation and outreach in the community. I use social media to share knowledge and encourage people to share their experiences and engage with others both online and off. Using these tools is a great way to bring people together to experience the arts. That is why I'm excited to incorporate Unbucket in our strategies to bring people together in fun ways that will strengthen the arts and cultural landscape in CNY.
Main photo courtesy of: Fable98