Launch Partner Highlight Series:
Nerve Rush x Unbucket
This series highlights the amazing group of organizations and individuals contributing to our first set of branded Unbucket lists. We felt their investment and belief in what we're accomplishing together warranted special recognition.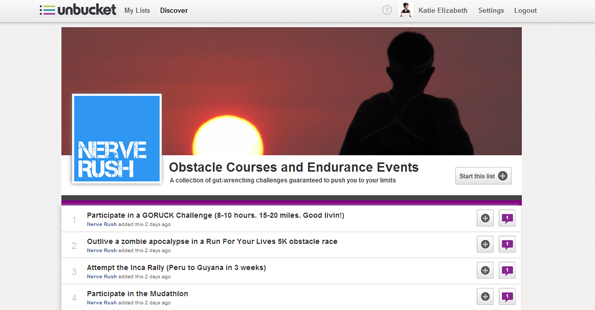 As happy as we are to see people adding items to Unbucket lists that we describe as "small, near, and soon" — like visiting a local park — we're always impressed when we see some truly ambitious items too. Our dear friend Sayra Morán's list "What a beautiful life, what a beautiful life" comes to mind. But what if your idea of ambitious list items involves pushing the physical and mental limits of human endurance? We've partnered with one of the best resources out there for inspiring you to do just that.
Nerve Rush is a premier source of information for extreme sports and adventure activities. They document endurance races, interview athletes and write about the world's highest mountains. They also produce downloadable guides for tackling endurance challenges written by world-recognized experts. Our first Unbucket list collaboration with Nerve Rush is titled: Obstacle Courses and Endurance Events. Just completing one of these would be considered ambitious by anyone's measure!
We look forward to many more opportunities to collaborate with Nerve Rush, and we hope our first list item inspires you to challenge yourself in the company of those you care about most.
3 Questions With Alan Perlman of Nerve Rush
Alan is the self-styled Chief Gut-Wrenching Officer of Nerve Rush and a primary contributor to the site. He has been to over 60 countries and counting. Alan is also a dear friend of the Unbucket founders.
1. Why were you excited to work with Unbucket?
I like Unbucket's philosophy. A traditional "bucket list" – adventurous places to visit, foods to try, iconic experiences to partake in – is isolated and somewhat limiting. By sharing your own lists with friends and family, and by exploring what other lists people create, this whole notion of taking control of one's life, of living a life of adventure and purpose and seizing the day, all of it, becomes more approachable, more fun, more emotional.
2. Can you share a personal experience with a Nerve Rush x Unbucket list items?
Guess who hasn't completed any of the items the list? THIS GUY. My personal experiences come from interviewing and speaking with the various individuals who have participated in races like the Inca Rally, the GORUCK Challenge and the Tour D'Afrique. Having them contribute their stories to the Nerve Rush community is as close as I've gotten to some of the wild feats of endurance these athletes have encountered. That said, I did just sign up for the New England Tough Mudder – we'll see how that goes!
3. In what way does Nerve Rush bring people closer?
One of our primary missions at Nerve Rush is to deconstruct the world of extreme sports, endurance events and obstacle races and to make those sports and activities more approachable to the masses. So, with our content, we bring our readers closer to the athletes, closer to the sports and closer to these super cool fringe activities like proximity flying and walking across America. Lately we've been conducting more video interviews which has allowed us to inject a bit more personality into the Nerve Rush brand. I see that trend continuing quite a bit.