Launch Partner Highlight Series:
TreePeople x Unbucket
This series highlights the amazing group of organizations and individuals contributing to our first set of branded Unbucket lists. We felt their investment and belief in what we're accomplishing together warranted special recognition.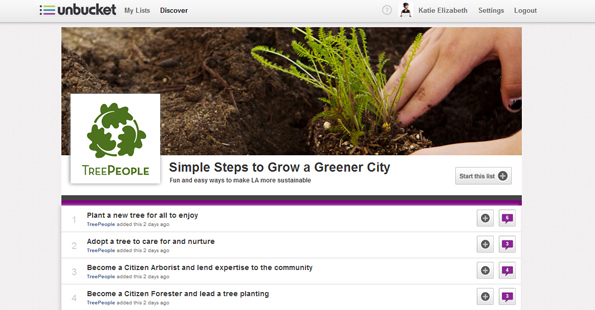 Almost a year and a half ago when Unbucket was just an idea, a good friend of ours, Michael Kaliski of Good Planet Media, passionately made the case to us for what he called, "Unbucket for Good." His vision called for non-profits and forward-thinking brands to use Unbucket to inspire action in the name of making the world a better place. Michael's vision inspired us and we committed that day to making "Unbucket for Good" a reality.
As Unbucket progressed, we reached out to multiple non-profits in the L.A. area to gauge their interest in using Unbucket as a platform to inspire action. Craig Prizant, Senior Director of Development & Marketing at TreePeople, immediately responded to our call and generously gave his time and feedback to us to help shape our approach. For those not familiar, TreePeople is an environmental nonprofit that unites the power of trees, people and nature-based solutions to grow a sustainable future for Los Angeles.
When the time came to select a launch partner to represent our first Unbucket for Good initiative, Craig immediately opened the door to partnering with his wonderful organization, the results of which we're thrilled to share with you today in the form of TreePeople's first Unbucket list: Simple Steps to Grow a Greener City.
Working with TreePeople is especially meaningful to us. The Angeles National Forest is frequently a place of respite for us when we need a break to reflect and regroup. Our own childhood summers were spent surrounded by the pine trees of Wisconsin and the cherry trees of Northern Michigan. This is a very special time for TreePeople too. The year 2013 marks their 40th anniversary and the unveiling of a very ambitious goal: to involve one million people in the Los Angeles area over the next ten years in transforming their homes and neighborhoods to be greener and shadier, and to create a secure supply of clean, local water.
We hope this is the first of many partnerships together aimed at achieving this goal, making ecosystems in Los Angeles and beyond healthier and more sustainable for all.
Three Questions with Lisa Cahill of TreePeople
Lisa Cahill is the Director of Sustainable Solutions for TreePeople where she inspires and educates others about the simple steps they can take to transform their landscapes. Lisa first began her work with TreePeople as a volunteer Citizen Forester and continues to volunteer in this capacity. She most enjoys working in the garden with her husband, watching her children and vegetables grow.
1. Why were you excited to work with Unbucket?
Unbucket seems like a great opportunity for TreePeople. We are very excited to be a part of their team. They helping us promote our work and creating another route for people to find out about all that we do here at TreePeople. The ability to share with friends and inspire each other is so much of what our work at TreePeople is all about.
2. Can you share a personal experience with a TreePeople x Unbucket list item?
I started with TreePeople over 12 years ago as a Citizen Forester. The trees outside my home are a constant reminder of the incredible work that TreePeople has done all over the city and the actions we inspired all over the world. Since then, I've headed up a few different plantings in my community and at my children's school. With our friends and neighbors my Citizen Forester plantings have planted and helped care for about 150 trees. My children see this every day. I think it helps them believe in me on days when I am not such a prefect parent, and more importantly, it shows them what one person can do. I know it gives them faith in themselves. It shows them dedication and confidence that one action does matter. And they are learning the value of giving, community and hard work. I cannot think of any better gifts to give to my daughter and my son.
3. In what way does TreePeople bring people closer?
My first position at TreePeople was that of Citizen Forestry manager. People always called us up saying, "I want to plant trees." "I want to make my community greener." "I want a lush tree canopy and lots of shade in my neighborhood." During the few months that we'd work on their project at some point they'd turn to me, completely surprised and say…"Oh! It's the people. I thought it was all about the trees, but it's really about people."
These epiphanies were so amazing to me, each time they happened. Of course, it's why we have our name…TreePeople…but it is about much more than that. People love trees. No matter their politics, their culture, their upbringing…we are all connected to nature. And although we can sometimes lose track of that, the road back in is so easy. Just by planting a tree, by caring for it and watching it grow, we remember the value and the vital role we play as stewards of the earth. We find that we cannot do it all alone. And we are supported by the community around us as we inspire each other to do more.
It's really amazing! And I feel that is what Unbucket is trying to bring to us, too. Simple, fun ways to connect and celebrate!